Since 1989, we have provided craftsmanship that adds long term high quality value to each and every new home.
Douglas Homes was founded almost thirty years ago in 1989 by Doug Musak, an award winning Master Builder and Civil Engineer. Doug has always been committed to helping his clients find the "Perfect Fit", to develop their dream into their home that features practical design and superior craftsmanship and is constructed within their budget. Douglas Homes provides quick possession and presale options, and always with you - the customer - in mind.
The Douglas Experience
We believe that we should never, ever, be satisfied until you are. And finally we believe you need lots of plan choices and finish options because your new home should be the perfect fit.
Over the past thirty years, this pursuit, combined with constant updates to incorporate current styles and targeting a variety of markets, has evolved into one of the industry's most comprehensive new home design libraries with over 150 standard plans and thousands of options. We select only high quality finishes for functionality and visual interest. We help you find the right style and design for you and your family.
Consequently, our homes offer the most desirable features that are important to today's buyers. Because of this extensive and evolving portfolio, aesthetic judgement, as well as workmanship and quality materials, Douglas Homes has won numerous national, provincial, and local awards including Calgary Region Builder of Merit and Medium Volume Builder of the Year for Alberta. Douglas Homes has also achieved a BUILT GREEN® plaque for its holistic approach to sustainable building practices.
We remain versatile in today's building industry as the code and building practices evolve.  It is imperative that we stay current and up to date with this evolution so you always have the latest and greatest in functionality and design requirements.
In order to build new homes that wow our customers, our commitment is to deliver on our promise of excellence and good customer service at every step of the home building process. We maintain a strong attention to detail, solid workmanship, using only quality materials, with on-time delivery. As an accredited Master Builder, we are committed to building only high quality homes. We have partnered with Alberta New Home Warranty to maintain your investment for years to come.
Our designs have always been about the impact and efficiency of space while maintaining aesthetically pleasing and cost effective designs. Because we believe craftsmanship comes first, we take great care in selecting our trade partners and suppliers. We diligently scrutinize every construction detail to ensure excellent quality and superior workmanship.
Our homes are chock-full of no-cost extra value because we believe craftsmanship comes first. We take great care in selecting only the industry's top trades and suppliers; diligently scrutinizing every construction detail ensuring excellent quality and superior craftsmanship. Our staff and our trades do not go home until the job is done, that is our commitment to you.
No two families are the same. That is why we seek to build homes in distinctive communities such as; Chestermere, Lyalta, Cochrane, Airdrie and Okotoks. Each community has its own individual look and feel from the amenities, lifestyle, schools, parks and recreational needs and wants making it as much about the community as the lot and house.
It starts with a great community.
Douglas Homes loves to build walk-out lots located near Lakes and within walking distance of neighbourhood amenities depending on the developer or area restrictions. Many of our homes come with an oversized, double or triple car garage for storage, toys and additional vehicles.
---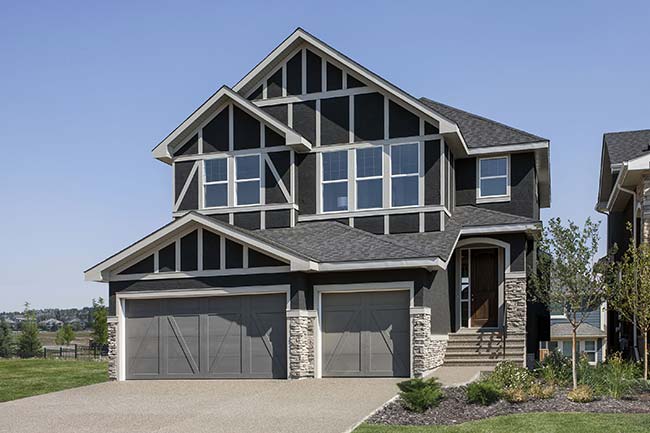 Upon entry into many of our homes, you are greeted by custom built-in additions such as benches, coat hooks and extra storage. To keep up with dynamic family trends, many of our plans come with the main floor flex room for versatile options; from an office, craft room or converted into a mother-in-law suite with private access to a full bath with accessible shower.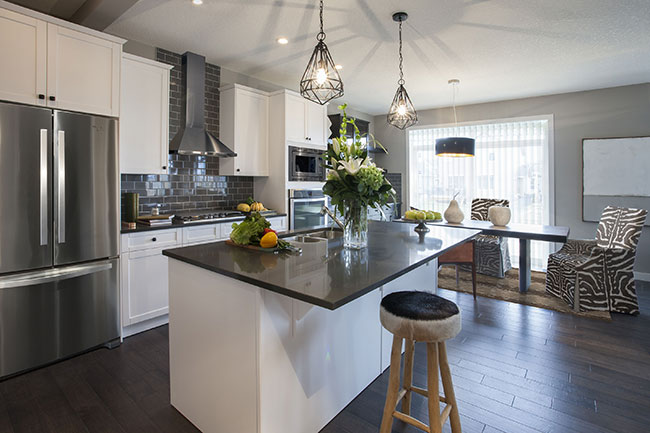 Open spaces across the kitchens, nooks and great rooms, appeal to families that likes to entertain or feel more connected. Small design details add extra appeal to our homes, such as; unique niches for display items, floating shelving, boxed out fireplaces with upgraded tile and rich features providing focal points.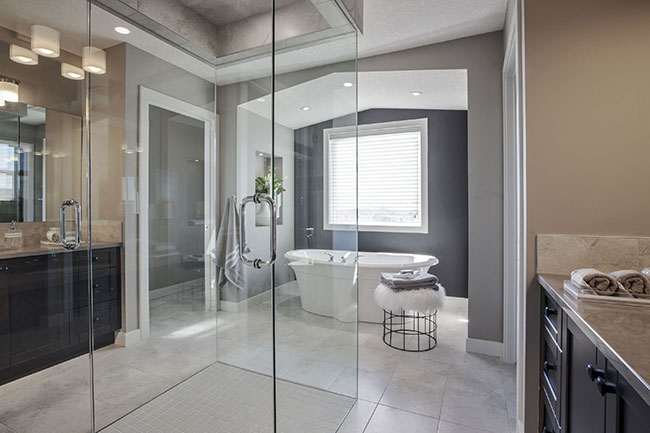 Our plans lend to growing families with bonus rooms, two to four bedrooms, and two to four and half bathrooms models. Many of our master bedroom retreats boast a pleasing symmetrical ensuite featuring matching his and hers walk-in closets and vanities, a beautiful tiled shower, and a luxurious soaker tub to bath in the warm sunlight.